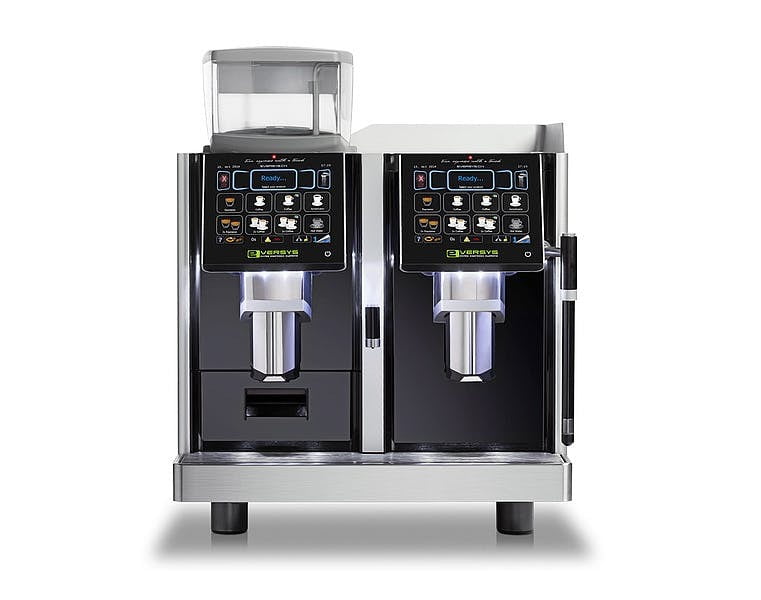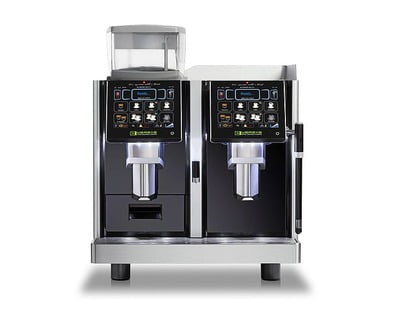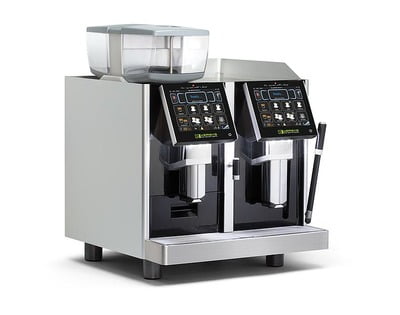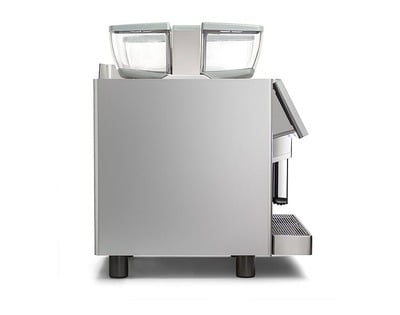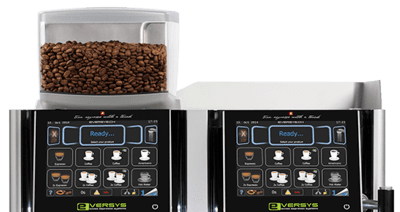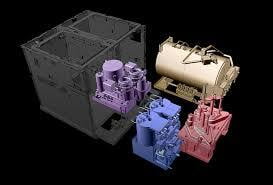 E'Line Espresso Machine Classic e'4 Barista 2 Wands Everfoam Super Automatic Eversys

Eversys has successfully achieved its goal of combining the functionality of an automatic machine with the in-cup quality of an expert Barista.
Eversys machines mimic the functionality of traditional coffee drink preparation with electronic grinder adjustment, precision brewing, extraction optimization as well as thermo­dynamic integrity which produces the quality, consistency and productivity that lead to delicious coffee.
The Eversys E4 combines two machines in one providing effortless productivity and resilience. The E4 can brew four beverages at a time or 350 espressos per hour at 23 seconds per shot, all while only taking up 22 inches of counter space.
This particular E4 model boasts two added options; the first being E'foam which enables machine operators to produce barista quality frothed milk at the touch of a button. The second added option is the additional steam wand
which enables the machine to be utilized simultaneously by 2 operators, like a traditional machine.
Grinding:
Ceramic blades driven by a powerful yet quiet motor, whose heat is cleverly channeled away from the coffee beans, to maintain their quality, via a set of fans. Electronic control maintains consistency of the coffee throughout the day, ensuring optimal extraction at all times.
Tamping:
A 24-gram brewing chamber to facilitate single cycle large beverages is controlled by electronic tamping to guarantee consistent quality.
Temperature control:
Dedicated coffee boilers, separate from the water/steam boiler, provide productivity and temperature control, which are essential parts of in-cup quality.
Brewing:
Reverse gravity extraction vertical infusion optimises powder efficiency as the espresso is produced.
Dispensing:
All products are pre-programmed to be dispensed in a consistent and efficient manner, placing seamless productivity and quality at the forefront of the customer experience.
Brew chamber: 2 x up to 24 g
Grinding: 2 x drive ceramic grinder disk
User interface: 2 x 8" color touch screen
Bean hoppers: 3.3 lb (2ea)
Coffee spout height: 2.55 to 6.49 inch
Coffee boiler size: 0.42 gal
Steam boiler size: 2.11 gal
Power requirement:
Two-phase 1 x 208 V, 2L-PE, 30 A, 50/60 Hz, 4.9 kW.
Water: Stainless steel braided hose length = 2 m with screw G3/8", 0–4 bar
Drain: hose Ø = 16 / 22 mm, length = 2 m
Water quality: Total hardness 5 – 8 °dGH (89 – 142ppm)
Carbonate hardness: max. 6 °dKH (107 ppm)
pH value: optimal 7.0 –7.2
Interfaces: USB, SD-Card, Ethernet, Serial RS-232, CCI (24 VDC, 15 W)
Standby mode: Less than 2 Watts electrical consumption
Front lighting: Full color LED, all colors and color gradient adjustable